California Faucets StyleDrain® Tile Wins 2013 DPHA Innovative Accessory Product of the Year Award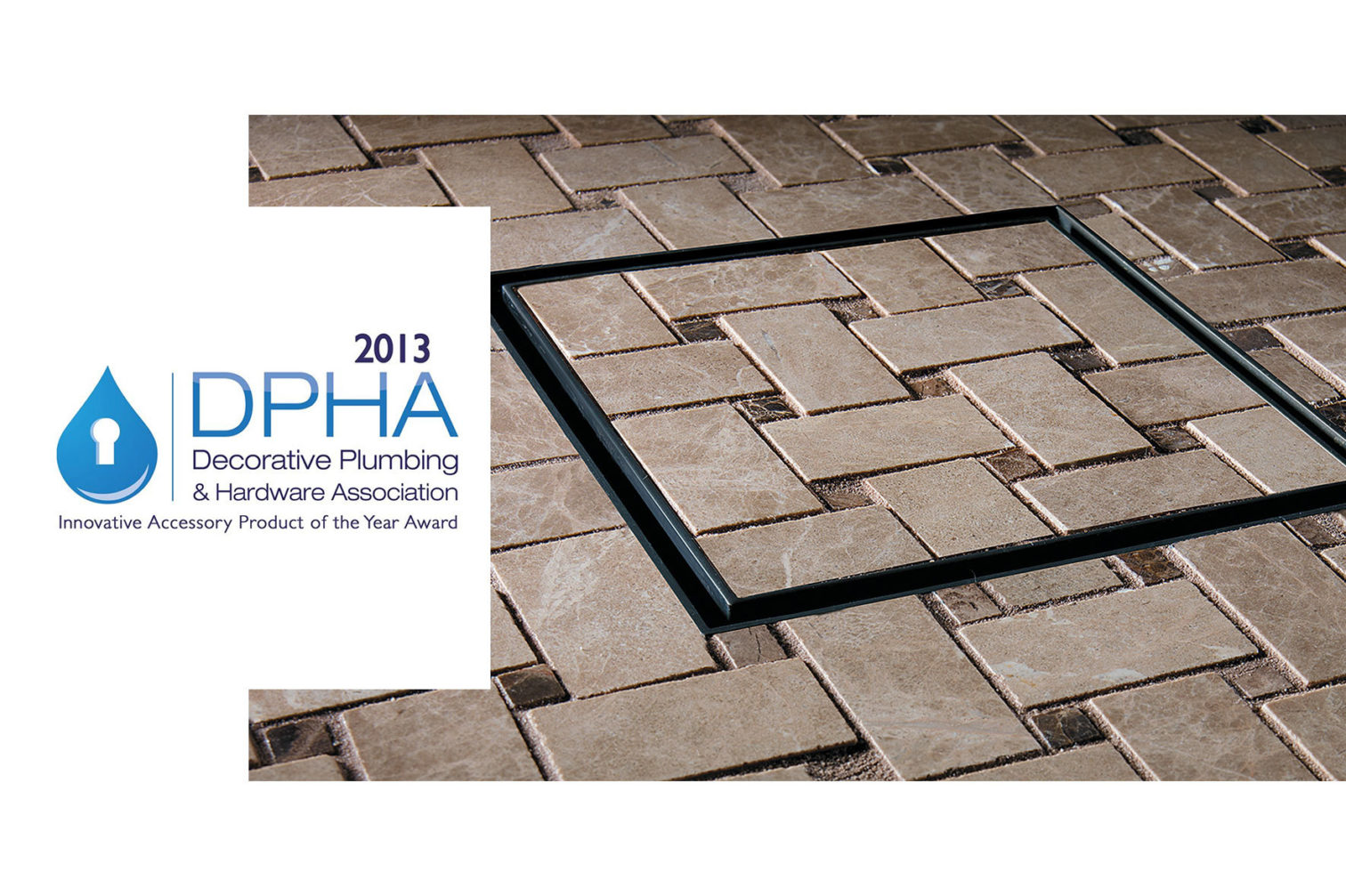 Decorative shower drain design takes top honors for innovation and style at the premier decorative plumbing industry association's annual event
(HUNTINGTON BEACH, CA, NOVEMBER 5, 2013)—California Faucets StyleDrain® Tile received the "Innovative Accessory Product of the Year" award for outstanding design at this year's Decorative Plumbing Hardware Association (DPHA) annual conference. The award ceremony took place during the event on October 9-12 at the Sheraton Wild Horse Pass Resort & Spa in Chandler, Arizona. DPHA, the industry's premier plumbing industry association, chose StyleDrain Tile for its innovative design, which allows for the inlay of any tile or stone to seamlessly integrate with shower floor tile schemes.
"It's an honor, and another validation to have received this important recognition from the decorative plumbing industry's premier trade association," says Jeff Silverstein, president and CEO of California Faucets. "It's especially gratifying knowing the voting was left to an independent panel of industry design experts who recognized the innovative attributes of StyleDrain Tile, as well as its design quality."
The independent judging panel was selected under the direction of Jim Babbitt, executive director of DPHA. The prestigious panel included Veronika Miller, founder and CEO of Modenus; Mary Jo Peterson, award-winning designer and member of the NKBA Hall of Fame; Eliot Sefrin, founding editorial director and publisher of Kitchen & Bath Design News;and Stacy Shoemaker Rauen, executive editor for Hospitality Design. In addition to considering the style and uniqueness of each product entry, the jury also evaluated innovative functional applications incorporated, according to Babbitt.
StyleDrain Tile is the latest and most innovative addition in the evolution of California Faucets' award-winning StyleDrain® series. A drain that is virtually invisible, StyleDrain Tile allows you to integrate any tile or stone within an artisan-finished brass frame that can be finished to accent the floor, or blackened to further the illusion of "no drain at all." By displaying a clean, minimalist appearance that harmoniously blends in with any tiled, decorative shower environment, StyleDrain Tile gives bath designers a creative edge that playfully begs the question: "Where's the drain?"

About California Faucets
At California Faucets we believe in artisan hands, not mass production. Since 1988, our factory in Huntington Beach has manufactured handcrafted bath products available in more than 30 artisan finishes that can be easily customized or purchased exactly as shown in our catalog. We proudly provide the latest in bath and shower technology with innovations such as StyleDrain®, StyleTherm®, and ZeroDrain®. These groundbreaking innovations turn utilitarian products into beautiful design statements and are the heart of our ever-evolving line of bath faucets, shower fittings, luxury drains, and accessories. We've also applied the same handcrafted quality and custom options to a full line of kitchen faucets. Our Kitchen Collection combines Italian design with California craftsmanship and offers a full range of matching accessories for a thoroughly coordinated look. For more information about California Faucets call 800-822-8855 or visit www.calfaucets.com.

# # #