Elevating Luxury Bath Design with Vessel Faucets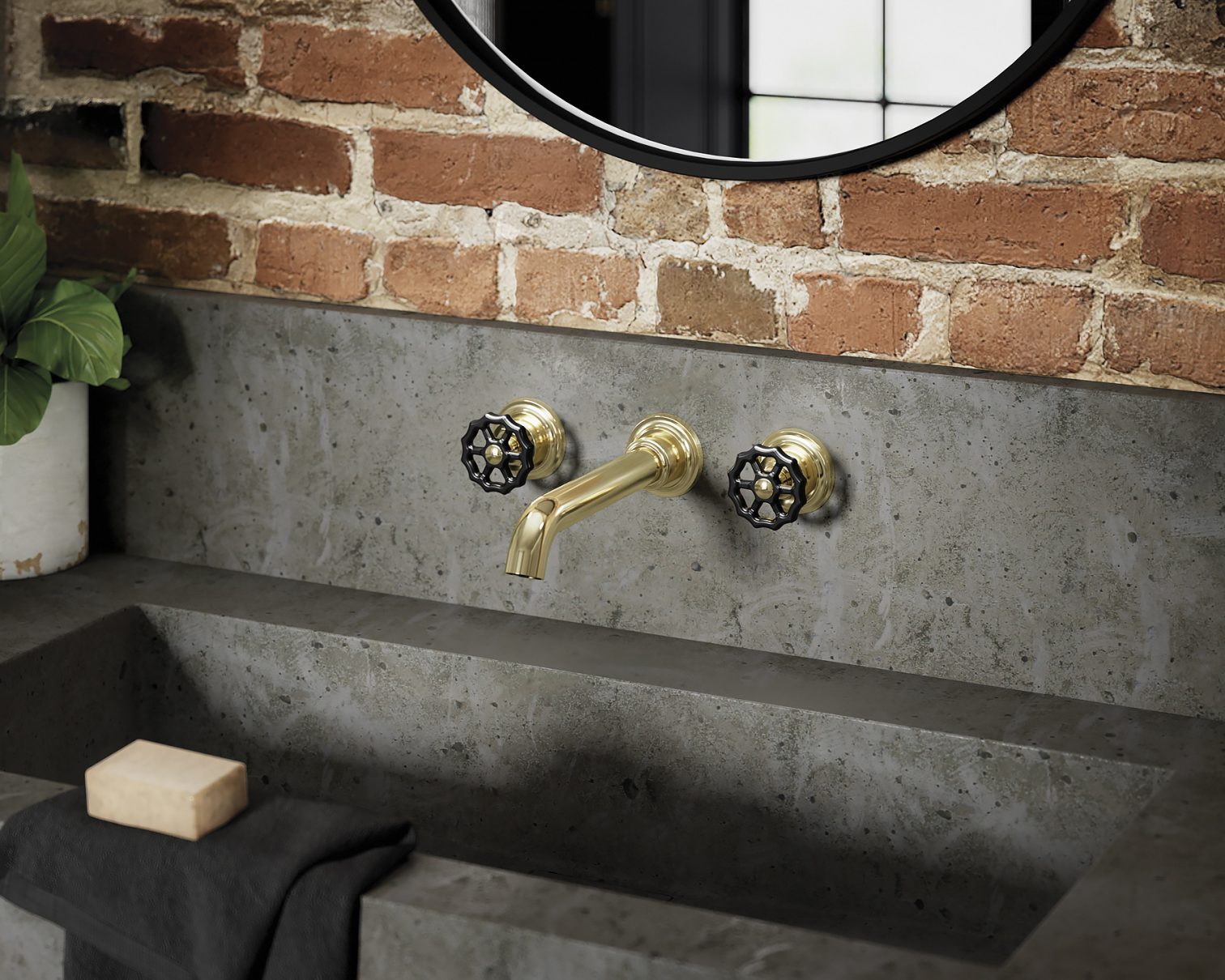 The collection of wall-mounted designs speaks to today's re-emerging trend while adding a sense of timeless style and spaciousness
(Huntington Beach, CA, April 21, 2022) Long popular in commercial settings such as boutique hotels and restaurants, vessel faucets, also known as wall-mounted faucets, are taking hold as one of today's most popular statement-making looks in residential baths. And it's no wonder. Vessel faucets help to save space on cluttered vanity tops, make countertops easier to clean, and add a unique design aesthetic to the bath.

Once a common fixture found in Victorian homes and farmhouses throughout history, vessel faucets are like a piece of art for the bath. Suspended above the sink, the faucet works as a sort of "sculpture," lending a sense of drama and sophistication to today's luxurious, spa-inspired baths.
"Designers and consumers alike are rediscovering vessel faucets for their coolness factor," says California Faucets Chief Marketing Officer Noah Taft. "The very nature of the 'floating' design adds an artistic touch. Plus, our unique ability to mix and match faucets and handles in over 25 artisan finishes means there's a vessel faucet to fit any style of décor." Taft adds.
Beverly Hills-based interior and product designer Christopher Grubb, whose luxury-loving clients often request wall-mounted vessel faucets, points to how this style of faucet adds an element of the unexpected. "They work with the backsplash to create an eye-catching design element and give the whole space an overall chic designer look," Grubb explains.
Vessel faucet designs include styles ranging from traditional, transitional, contemporary, industrial and even steampunk. The variety, combined with California Faucets' signature "mix and match" flexibility and finish options, makes it easy for anyone to create a one-of-a-kind luxury look in the bath. Like all California Faucets products, vessel faucets are made to order in the company's Huntington Beach, California factory. Each wall-mounted faucet features ¼ turn ceramic disc cartridges and a 1.2 gpm water savings aerator. Pricing starts at around $527 for select styles in Polished Chrome and include Faucet Trim only.
About California Faucets
At California Faucets we believe in artisan hands, not mass production. Since 1988, our factory in Huntington Beach has manufactured handcrafted bath products available in 28 finishes that can be easily customized or purchased exactly as shown in our catalog. We proudly provide the latest in bath and shower technology with innovations such as StyleDrain®, StyleTherm®, and ZeroDrain®. These groundbreaking innovations turn utilitarian products into beautiful design statements and are the heart of our ever-evolving line of bath faucets, shower fittings, luxury drains, and accessories. We've also applied the same handcrafted quality and custom options to a full line of kitchen faucets. Our Kitchen Collection combines Italian design with California craftsmanship and offers a full range of matching accessories for a thoroughly coordinated look. For more information about California Faucets call 800-822-8855 or visit CaliforniaFaucets.com.