California Faucets StyleDrain® Tile Wins Interior Design Best of Year 2013 Award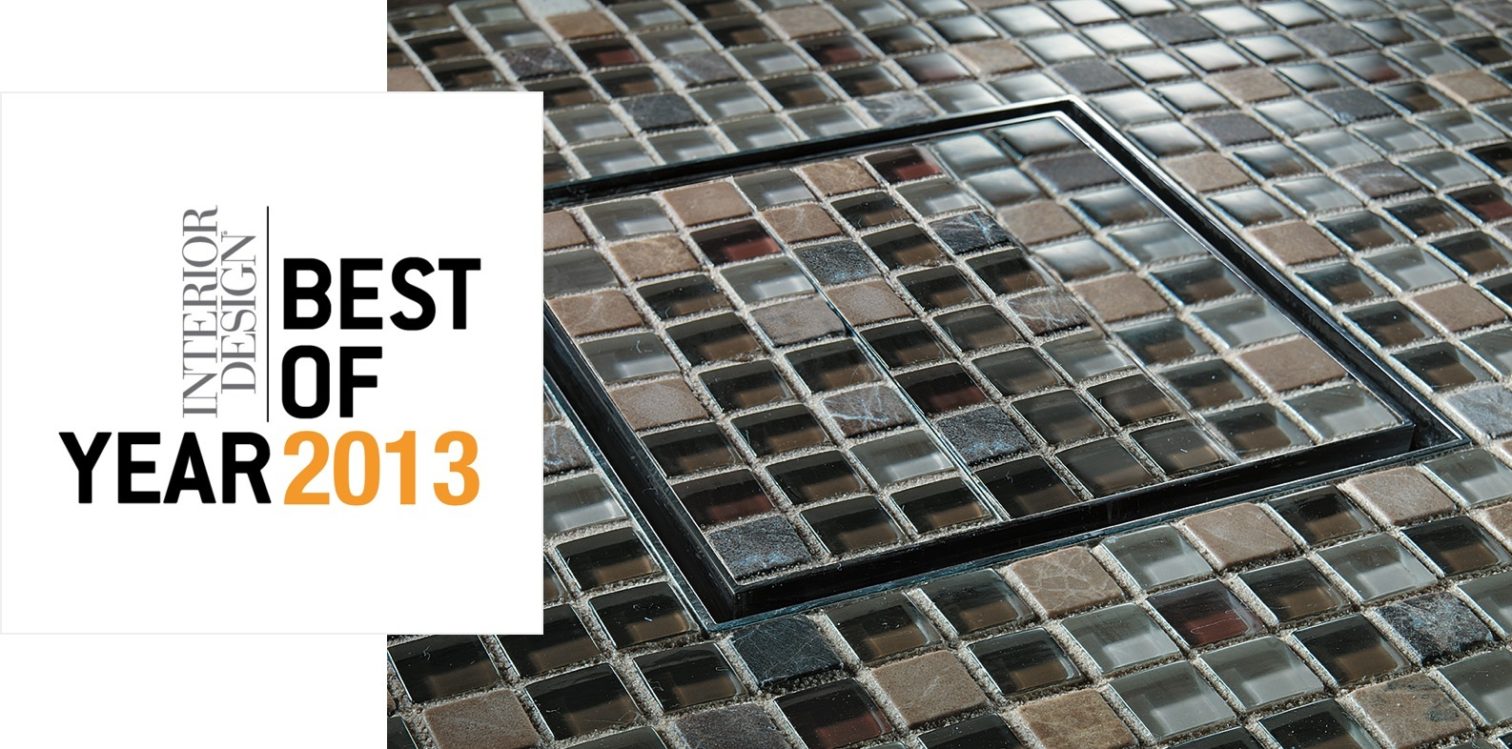 Groundbreaking shower drain singled out for design that allows inlay of any tile or stone to seamlessly integrate with the floor
California Faucets StyleDrain® Tile was named Best of Year 2013 winner by Interior Design magazine. The award, presented at Frank Gehry's IAC Building in New York City on December 5, recognized StyleDrain Tile with first place distinction in the bath product accessories and hardware category. The latest, most innovative addition to the company's award-winning StyleDrain series was honored for outstanding design. The design allows the inlay of any tile or stone to match surrounding shower flooring, thus creating the illusion of water vanishing into the floor.
StyleDrain Tile took top honors in its category at the 8th annual Interior Design Best of Year awards amid the stiffest competition in the history of the event. After finalists were chosen by 62,000 qualified design community members, the honorees were selected by Interior Design Editor-in-Chief Cindy Allen and a jury of design leaders from over 1,800 project and product submissions.
"StyleDrain Tile is the latest in the evolution of our StyleDrain series, which feature beautiful, decorative grids," states California Faucets President and CEO Jeff Silverstein. Silverstein explains the company originally created the decorative shower drain category after recognizing the need within the industry to offer consumers an alternative to standard, utilitarian drains for their decorative baths. "StyleDrain Tile gives designers a creative edge by giving them the option to install a drain with a clean, minimalist appearance that harmoniously blends in with any tiled, decorative shower environment. It's as if there's no drain at all."
StyleDrain Tile's barely detectible, all-brass tile frame is uniquely available in multiple decorative finishes, which subtly accents the periphery of any tile or stone. Artisan tile frame finishes include Polished Chrome, Polished Brass (PVD), Polished Nickel (PVD), Stainless Satin Nickel (PVD), and Blackened (PVD).
Adaptable to most mainstream drain bodies, installation of StyleDrain Tile is easy, and it is compatible with all waterproofing methods. StyleDrain Tile drains up to ten gallons of water per minute, while providing a smooth, foot-friendly surface with no sharp edges. As with all California Faucets products, StyleDrain Tile proudly carries the Made in CA designation.
The inner frame of the drain, which holds the tile inlay provided by the designer or consumer, measures 5-5/32 square inches. The outer frame measures 5-15/16 square inches. The square shape of the StyleDrain Tile frame makes for easier tile installation, and reduces its cost, compared with traditional round drains. Price range is from $397 to $589, depending on tile frame finish.


About California Faucets
At California Faucets we believe in artisan hands, not mass production. Since 1988, our factory in Huntington Beach has manufactured handcrafted bath products available in more than 30 artisan finishes that can be easily customized or purchased exactly as shown in our catalog. We proudly provide the latest in bath and shower technology with innovations such as StyleDrain®, StyleTherm®, and ZeroDrain®. These groundbreaking innovations turn utilitarian products into beautiful design statements and are the heart of our ever-evolving line of bath faucets, shower fittings, luxury drains, and accessories. We've also applied the same handcrafted quality and custom options to a full line of kitchen faucets. Our Kitchen Collection combines Italian design with California craftsmanship and offers a full range of matching accessories for a thoroughly coordinated look.

# # #